Are you looking for some free plumber marketing ideas?
If you don't have much to spend on marketing, you might wonder how to grow your plumbing business. The good news is that there are plenty of things you can do to attract new customers without spending a cent.
The 10 Free Plumber Marketing Ideas
Here's my list of 10 free plumber marketing ideas for you to try. When I say free – that's free of money – but not time (sorry). You don't need to do them all – start with one and be consistent.
My recommendation is tips #3 and #4. #6 is essential in these days of online word of mouth.
#1: Facebook Live Video
How To Live Stream On Facebook – Facebook Tutorial
I know, first up you might think 'I'm not doing this!' Most people don't like seeing themselves on camera or hearing the voice on camera and you will probably feel that way too.
Given the most consumers want to see video content you're actually giving them what they need and engaging with them at the same time so your building relationship before you even meet them. This will give you a competitive advantage over other plumbers if you can go with the flow. Honestly, it's a bit like public speaking – you can do it if you get some practice.
You don't need to have a script, just have some idea of what you cover and work your way through it. With Facebook Live Video, you can shoot how-to videos you can answer questions that your customers ask frequently or answer questions that it should be asking about plumbing and you can give behind-the-scenes tours of your business for example.
When you are done, you can download the video from Facebook. Then, you can edit and post the video to your blog or YouTube channel.
For extra SEO bonus points, you can extract the audio from the video and turn it into text using an app like Otter or a tool like Trint. Google likes to see content on the page where you are posting the video because that helps them understand what it's about.
#2: Become A Plumber Hashtag Expert
Hashtags are a way of sharing your content so that other people may find it. They consolidate your content along with others who also post to that hashtag so there's a bunch of pictures and words there that consumers might find interesting.
They are free to use and can help potential customers find a solution to a problem they are having, and therefore find your business.
The key to using hashtags is to use once the potential customers might use when looking to solve a plumbing problem.
My recommendation is for you to create a hashtag that incorporates your business name, or service with your location because that will help you reach your local audience. For example #drainexpertsydney
Here are the best #tags for plumbers
#plumbers #plumbing #plumber #plumbinglife #plumberslife #plumbersofinstagram #tools #worldplumbers #plumblife #construction #plumbingservices #plumbingproblems #residentialplumbers  #leakdetection  #plumbingporn #waterlines #waterheaters #sewerlinereplacement #repipe #tradesman #draincleaning #sewerlinerepair #sewerlinecleaning #commercialplumbers
#3: Blog About Plumbing Regularly
Now I know that producing blogs is hardly a revolutionary marketing strategy. But it's free and effective and has passed the test of time because it works.
Your blog posts can be long or short. All that matters is that they are relevant to your business and about topics that potential plumbing customers would be interested in.
And you don't need to be afraid of giving the game away by teaching someone a plumbing trick. The people who are interested in DIY plumbing will find a solution on YouTube anyway. The purpose of the blog posts is to prove your expertise to potential customers in your location.
The best blog topics will be things like frequently asked questions, questions people should be asking their plumbers and aren't and interesting jobs that you've been doing. For example:
You can do a series of blog posts answering common plumbing questions.
You can take before, during and after pictures of a plumbing job (especially an interesting one) and then write the job up (or dictate a story and get it transcribed) about why you did, what was complicated and why you did the job that way. For bonus points refer to the location and collect a customer review.
Add some relevant images and optimise the page, and you'll be sure to attract some traffic – without spending money. Then post it to your social media (see #4 below).
#4: Cross-Post Everything
Creating content is a bit of pain in the butt and it takes time. So you want to use your content as widely as possible once you've created it and that's what's really important that you repurpose it for use on other venues than your blog.
?? 7 Simple Strategies for REPURPOSING CONTENT ?? How I Repurpose Content Each Week
Come up with a cross-posting strategy that makes sense. For example, you might:
Share blog posts on Facebook with an image that contains a pull quote from the blog
Create a YouTube video from your blog post or Facebook Live.
Put pull quotes on pictures and share to Twitter with a shortened URL
Create a Pinterest board with your most liked images from Instagram
There are lots of ways to repurpose your blog posts and social media content and sharing somewhere else. Just make sure you make the content relevant to the platform we are reposting it.
You won't need many hashtags on Facebook, but you will on Twitter and Instagram.
#5: Create Free Graphics
You've probably seen that graphic images like quotes and infographics popular both in blogging and on social media. What he could hire a designer or a freelancer on fiverr.com, if you got a talent for doing it you could use some online tools to make them in your spare time.
He is two tools that I recommend:
Venngage to make more complex infographics
Here's an example. Very likely a graphic such as this will get shared on social media and some bloggers may even link to it.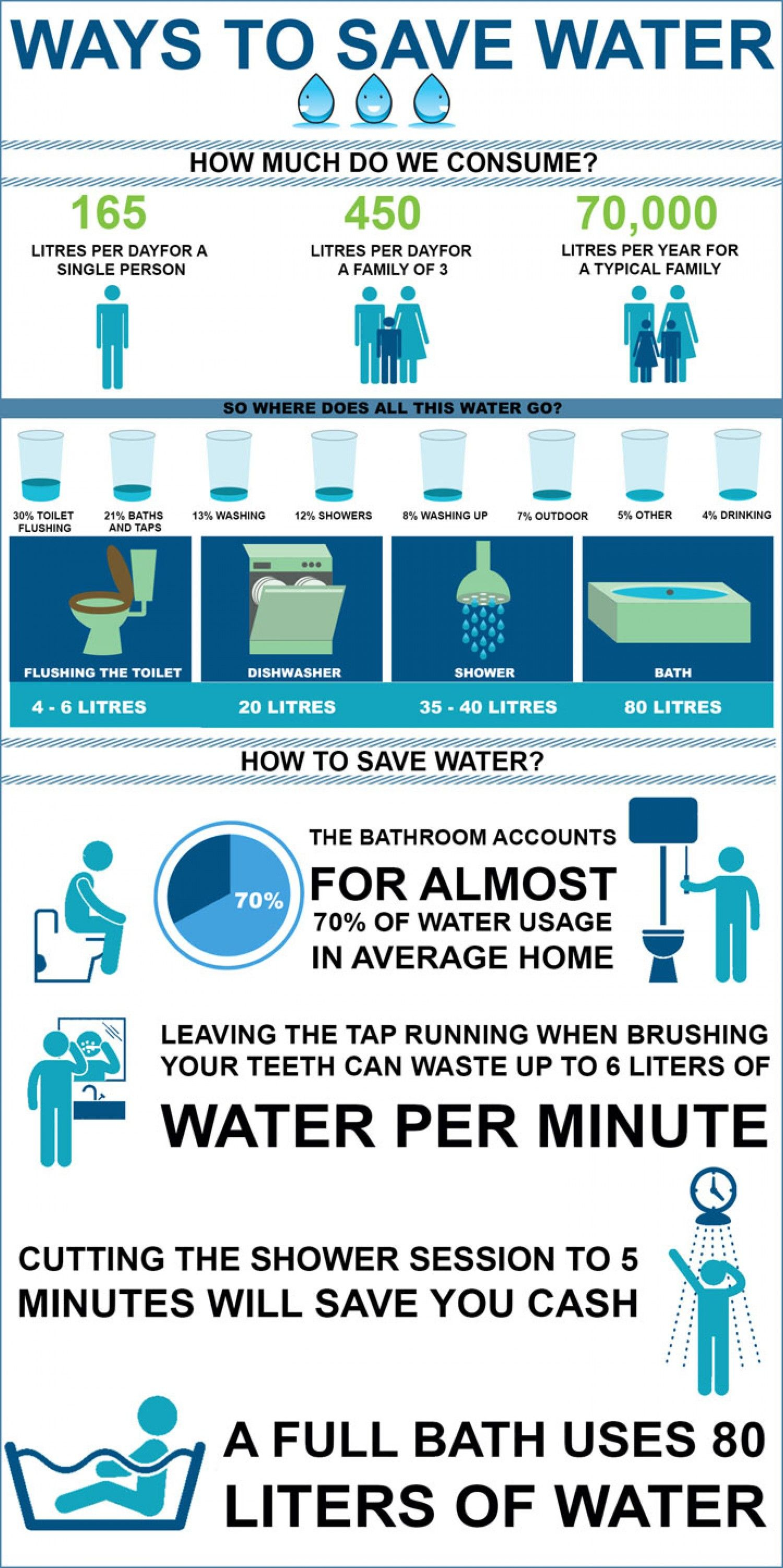 #6: Encourage And Respond To Online Reviews Of Your Plumbing Business
You already know that online reviews are essential, free marketing for your plumbing business. Most people read reviews before hiring a new plumber. You can use reviews to your advantage without spending any money.
First, you can encourage your customers to leave reviews of your business by asking them in person or in an email. You can use review management software such as RepBuilder+ to manage the process for you. Get a free trial here.  Or if you want to do it the hard way, you can link to your review pages from your website.
What your customer has taken the trouble to post an online review, you need to make sure that you do them the courtesy of responding to the review. It's important that you show other potential customers that you care about the opinions and feedback of existing customers.
How To Respond To Reviews, Both Good and Bad
#7: Film or Write Plumbing Customer Testimonials
A customer testimonial is a more powerful way of displaying a review to your future customers. And if you ask, many of your customers will be happy to help you out by giving a testimonial.
Some may even be happy to give you a video testimonial, which you can collect with your smartphone.
Once collected you can share the testimonials on your website, your blog and your social media.
The benefit of testimonials is that they let potential customers know what to expect from your business before they engage you.
Here's an example
Customer Testimonial – Rooter Hero Plumbing In Pasadena
#8: Publish a Newsletter or Regular Plumbing Email
Email marketing is easy and affordable. If you have a small list, you can manage it using a free version of autoresponder software – and a newsletter is a great way to keep people informed about your business.
The goal is just to keep reminding your customers about your business so they remember to call you next time they have a plumbing problem.
You keep your email articles short and sweet and need to be 150-200 words long. Your goal is to keep people updated with what's happening in your business and educating people about plumbing, water and gas-related issues in the home.
Don't forget you can also use the emails to send out links to your blog posts.
#9: Pair Up with Other Business Owners
The chances are good that you know other business owners who sell products or services that complement your plumbing services. For example, a kitchen installer or an electrician could be great complimentary services for your plumbing business.
Identify a business that meshes well with yours and cross-promote each other's products and services. You can do this for free. You can even offer joint packages or deals to attract more customers.
#10: Get Involved in Local Events
Finally, one of the best ways for local businesses to attract new plumbing customers is to get involved in local events.
Does your town or suburb have an annual charity event? Participating can help raise your profile and earn you some goodwill from the people who are most likely to buy from you.
You may also decide to:
Sponsor a sports team
Raise money for a local charity
Help with a local street fair
The secret here is to find and do things that don't cost you cash, for instance, you could provide free plumbing services to that event or team.
And where you can, get the event organiser to create a link to your website as a sponsor. It helps with getting customers and is a valuable SEO link that Google will see.
Free Plumber Marketing Ideas
Marketing doesn't need to cost a fortune – or anything at all. The 10 free plumber marketing ideas here will help you kick-start your marketing even if your budget is non-existent. If you don't want to do any of these, but still want to get increased visiblity in Google, have a chat with us about the Best SEO for local businesses like plumbers.