Are you a plumber who offers a free quote to potential customers? Many do; it's practically a given at this point.
It's supposed to help you lure in more leads and convince them to hire you for their plumbing needs, but when everyone else around you is doing it too, it doesn't stand out as something special in the way you intended.
You can still reap significant rewards from a free quote offer on a crowded playing field like this; you just have to change your approach a bit. You need to set your offer apart from the crowd, and there are several things you can do to make it clear that your free quotes are worth choosing over those of your competitors.
Why Free Plumbing Quotes Are Standard Practice
Free quotes are ubiquitous in the plumbing industry because it's an easy way to get your foot in the door with a lead.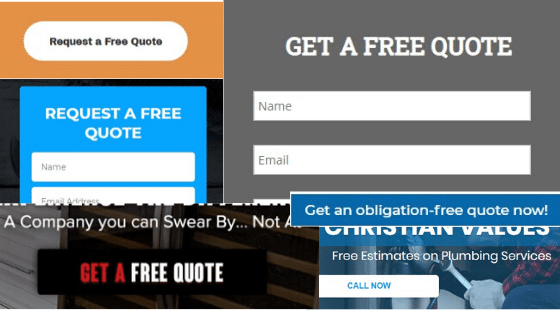 Like all services, plumbing jobs don't have a single standard price: you set your rates based on the time it will take to finish the task, the materials involved, how complicated the work is, and other variables. A prospective customer has no way of knowing what a job will cost them without asking you about it.
Requesting a quote lets people get a better idea of how big a bill to expect, so it obviously benefits them.
Option 1: Don't Offer A Free Quote
A straw poll of plumbers websites indicates about 4 in 10 don't obriously offer free quotes or estimates. That can make commercial sense if you have a  good customer base or plenty of work flowing in from your marketing.
Who wants to take 1-2 hours driving, exploring the potential job and preparing a quote that you might get. Or you might not! At $100 an hour and a win rate of one in two that, around $300 in time used to get the job.
It's also likely that people who are looking for a free quote are price rather than service sensitive. They are looking to compare multiple prices, operating on a budget, or a being cautious wanting to budget ahead of the job.
Options For Not Offering Free Quote
There are several options to avoid offering a free quote. Some of these are:
Allowing people to book online (avoids the price discussion).
Charge for preparing a quote and rebate all or some of it from the job if you get it.
Collect online reviews so people know your business is a great honest service business.
Divert by offering upfront pricing when you get to the job.
Productise your services and offer a menu of prices so people know what they are up for ahead.
Offer online chat and/or free remote estimates.
Making A Free Quote Better
If you feel you need to offer free quotes, make the most of it. It gives you a chance to speak to them one-on-one and convince them that your services are the best option for them.
See it as more than just something you offer for your customers' convenience, but an opportunity for you to win more business and revenue. You owe it to your company to get as many people to sign up for this service as possible, and that won't happen if it's the same generic "free quote" offer every other plumbing company has.
Define Your Offer
So how exactly can you make your free quote offer better? The first thing you should do is make it more specific. Inviting people to request a quote is not enough. Your call to action should look something like the following examples:
'Click here to schedule a free visit to your location; we'll diagnose your plumbing problem and let you know how we can help.'
'Click here for a free plumbing estimate that includes a full breakdown of all expected costs.'
'Click here to tell us about your plumbing troubles and receive a free no-obligation quote that includes our 5-year service guarantee.'
Instead of focusing on the quote itself (which, as we've discussed, is nothing special), these offers pull the reader's attention to the finer details: the in-person visit in the first case, the broad scope in the second case, and the guarantee in the last example. These are special features that won't be part of every quote offer but are explicitly part of yours.
Extending the offer with specific wording like this lets your leads know what your free quote offer brings to the table. Its value is clear, so there's no question that your prospective customer will get something useful out of this process. That's what gets people to take you up on your offer.
Make a Name for Yourself
No one wants to hire a plumbing business, they can't trust to do the work right, no matter how low that business' prices may be. That's why showing off some of your expertise can help make your free quote offer more attractive. Here are some simple ways to do this online:
Show off any awards you've won or high-profile clients you've served.
Collect online reviews from customers.
Guest post on other local businesses' blogs – think suppliers (accountant or bookkeeper), other trades you know (your Pest Control mate's website for example)
Answer people's questions on your social media accounts – especially local Facebook groups
Once you've built up your reputation, it will be apparent that you know your stuff, and your leads will understand that getting a quote from you is worth their while.
Set Up A Process
A good quote offer follows a consistent pattern every time. Having an established process keeps you on track and headed for success.
Decide on the maximum amount of time you want to spend making a quote and stick to it – you can't afford to spend all day on something that won't directly be making you money. Include travel time if necessary.
Know what a quote looks like for your business and communicate that to your lead. Tell them what is included and whether the price might be subject to change as the project goes on.
Provide your lead with a copy of their quote (digital or handwritten), so they can easily refer back to it later. A scrappy handwritten quote is not going to be as professional or fast as producing it via software and emailing it to the prospective customer.
Let them know how they can get in touch with you again if they choose to go ahead with the work.
Add the customer to a follow-up nurture sequence about the type of work they wanted a quote for. Sales are rarely made on the first contact. Use a good marketing automation software such as Active Campaign for this. It will increase your quote conversions for sure.
Following these guidelines will make sure that every quote you give is valuable for both you and your lead.
Explore Your Lead Magnet Options
Even an improved free quote offer shouldn't be your only lead magnet strategy.
Many of the leads visiting your website might not be ready to buy plumbing services just yet – they might be thinking about a significant bathroom renovation they want help with, for example, or wondering if the lower water pressure they've noticed recently is worth getting checked out.
These people may not feel committed enough to sign up for a free quote right away. If you let them download some helpful content in exchange for their email address,  you'll be able to market to them while they think things over.
Some pieces of content that work well for this include:
Case studies showing how people can benefit from plumbing improvements (for instance, how much money they could save by installing energy-efficient plumbing fixtures in their home).
Checklists for common problems, like determining how well the pipes in an older home are holding up.
How-to guides for simple plumbing tasks like emptying the grease trap in a sink.
Just make sure the content and follow up is about the same topic as they want to know about.
Every time a lead signs up for a free plumbing quote with your company, you're one big step closer to securing a new customer. Take the time to make your free quote offer the best it can possibly be; you'll be glad you did when your bookings rise as a result.