If your plumbing business is "bogged down", it could be because your social media presence is dying or already dead. Social media is one of the leading ways to communicate with your customers and get new customers.
Social media management is critical to your business and brand. If your social media is failing, you should revive it and – this is key – keep it moving forward.
Here's How To Unclog Your Plumbers Social Media In 2020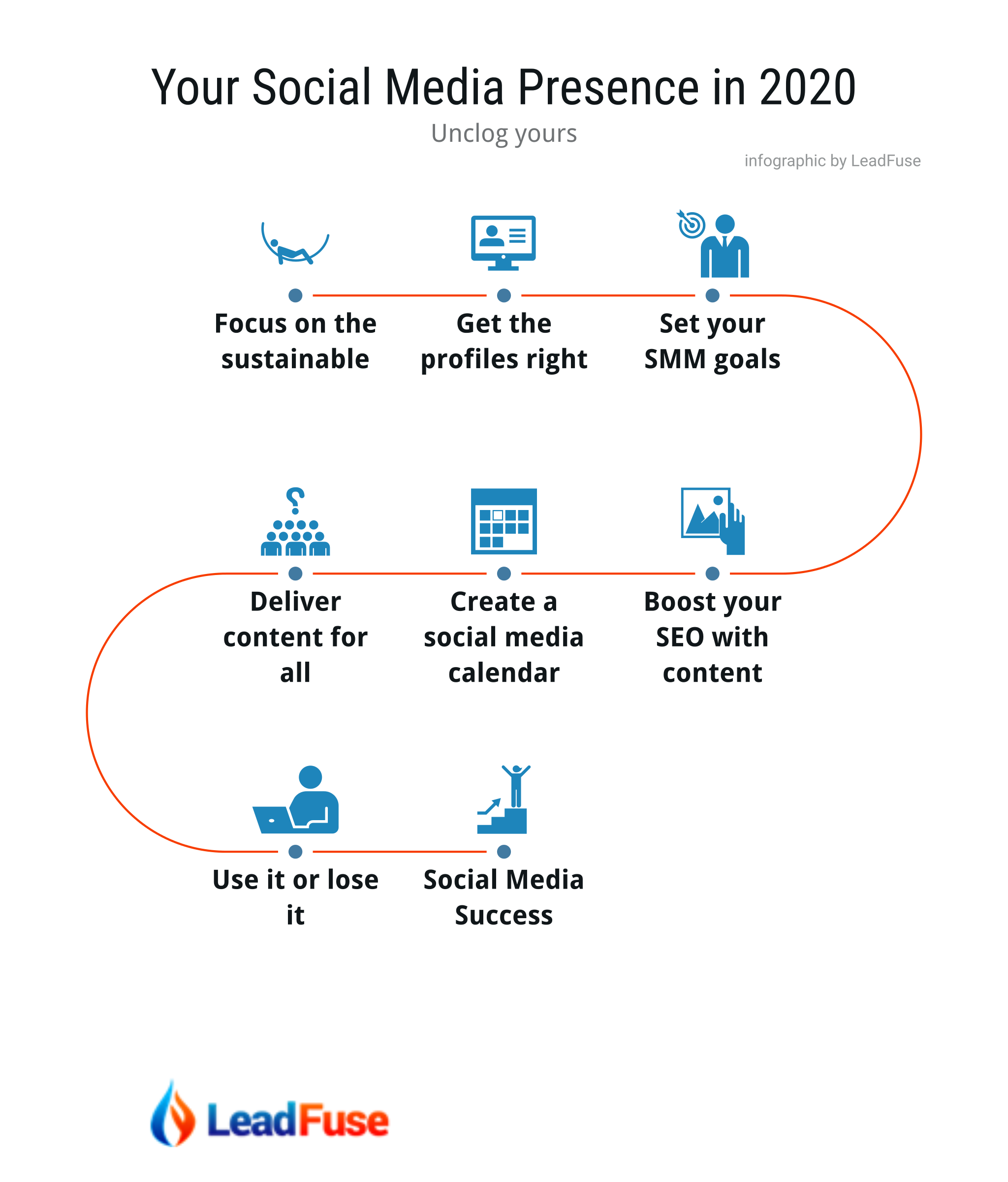 1. Focus On What You Can Sustain
A word of advice here: don't bite off more than you can chew.  You are better off taking on one social media channel (eg Facebook) and doing it really well.
Far too many plumbers start off with a hiss and roar on Facebook AND Instagram AND Twitter.
Then they find it all gets too hard.
It's easy enough at the start, but then you begin to struggle for content and forget to engage with people and soon enough you don't see the sales or leads coming from it and you give up.
Then six months down the track you have three or more social media profiles that are ghost towns and make it look like you are out of business.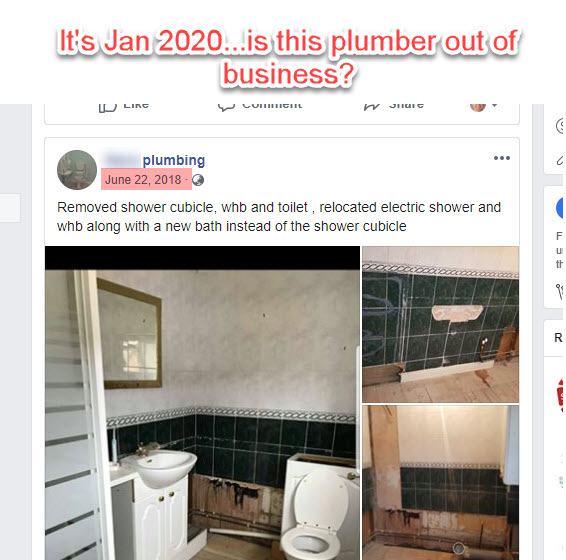 2. Social Media Profiles: Begin With the Basics
Review each active social media page. Are your profiles accurate? Your profiles should include:
Company name and business description
CTA (call-to-action) button – Upon visiting your page, what do you want potential customers to do? Contact you for a free quote? You need a CTA button on this page for one-click redirection.
Email
Geographical areas served
Link to your website
Physical location
Recent profile photo and cover photo
Telephone numbers
3. Set Your Social Media Marketing Goals
One of your goals should be to generate more interest in and traffic to your website. For example, your blogs should have links to your social media pages; Facebook, Instagram, Twitter, YouTube… And each of these pages should post your latest content (blogs). It's a win-win strategy.
Other goals could include:
Cultivating/developing a current email list of customers
Greater blog readership
Increasing your brand awareness (Are you confused about your brand? Here's the traditional way to understand it: Your company logo on your van, the sign outside your building generates familiarity; recognition. Your reputation for quality delivery and superior customer service is your brand.)
More testimonials from customers
Tracking website analytics effectively (views, likes, "more information" and "contact" click-throughs…)
4. Boost Your SEO With Content
"Google" is no longer a proper noun. "I'll google it" is how we say we will seek information on the internet. If plumbing services are needed, you want potential customers to google your business.
To attain higher search engine optimisation (SEO), you need keyword-driven blogs. Keywords could include:
Brisbane plumbing company
Commercial, residential plumbing solutions in Sydney
Master plumber Newcastle
5. Create a Social Media Calendar
Here's the most challenging task: You must take your social media marketing plan seriously. Updating pages and your website is critical. This means you must create a calendar – a monthly agenda – and stick with it.
I know, you're thinking, "Hey I'm a plumber, not a website manager". And it is at this point when small- to mid-size companies transition from Mom & Pop's Plumbing to becoming contender – a viable competitor – within their industry.
Effectively managing internet social media sites is how your business can stay alive and prosper. No pressure… There are plenty of tools available for you or the agent handling your social media updates and data:
This is a social media management calendar recommended for business startups. It's a good guideline for established businesses as well:
LinkedIn 1x/day, Monday-Friday – Research shows you can reach 60% of your audience on LinkedIn, so if you aren't using it, reconsider.
Facebook 1-2x/day – Actually, more is less on Facebook. Overwhelming your customer base with TMI (too much information) jeopardises followings.
Instagram 1-2x/day – This platform is increasing its user base, so you may want to jump on the bandwagon in 2020.
Twitter 5-10x/day – Twitter is skittish and fast-moving, so more is…more. Consider creating a schedule for your 5-10 posts and spread them over prime hours (between 8:00 a.m. – 4:00 p.m.).
Pinterest 5-30x/day – More "pins" generate more engagement.
If you think this will be too hard, we can do it for you. Just contact us and we can set you up with daily content, exposure boosting ads and a full marketing funnel.
6. Content At All Levels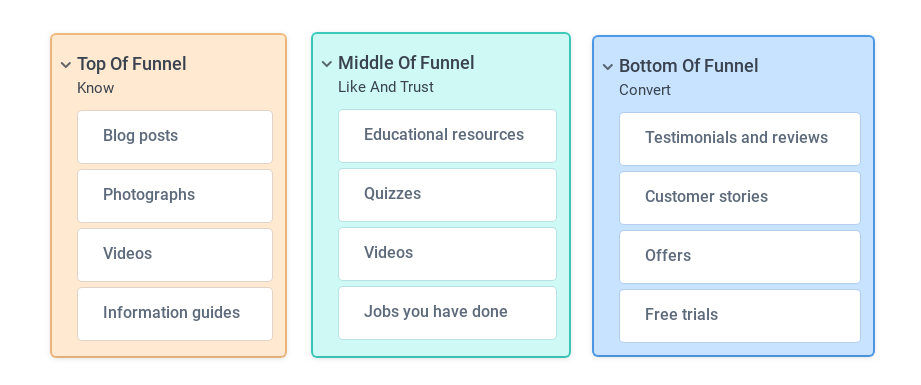 You need content that meet's the expectations of your audience and followers. This means:
Interesting, useful educational content at the aimed at the audience who do not yet know you but are interested in a related area. For example, Plumbing Problems In Older Houses in [Your Suburb]
Helpful content that positions you as an authority for people who have heard of your business but are not yet engaged with it. For example, How keep your washing machine from getting clogged pipes or examples of jobs you recently completed in the suburb.
Selling content that get's people who already know like and trust your business but are not yet customers to become a customer. For example: New Year Special Offer: Free 12 Point Plumbing Check with every job in [Suburb].
Engaging and fun content. Because that's what social media is for afterall!
Sharing of customer reviews
7. Use It or Lose It
Not one of your resurrected social media pages will help if you don't use them. You must actively engage with customers. Take advantage of your data and metrics to increase your business in 2020.
One way to keep your social media pages active is to ask questions. When followers respond, acknowledge them as soon as possible.
Ask readers to tell their stories of plumbing nightmares, etc.
Pursue metrics regarding each social media page. If one is under-performing, you may want to change your strategy (or delete it).
Sponsor contests.
Track your social media "mentions". Nurture loyal customers and followers; they will share your brand with others.
Plumber magazine says to remember social media is about what your customers need, not what you want. Create a customer persona and then tailor your posts toward that ideal customer. Your social media mission is to:
Last but not least, be social!
Share and "like" other posts, "follow" local businesses and community organisations, and join groups. When they have a plumbing question or are faced with a commercial or residential plumbing challenge, they'll think of you first.